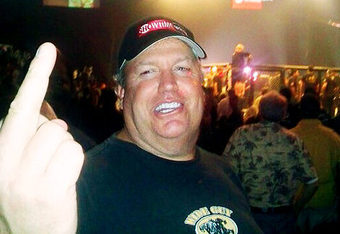 vs.






So the New York Post thinks that we now have our own Rex Ryan in Bobby Valentine. The National Enquirer of newspapers would like to have their readers believe that we as New England sports fans are getting what we deserve for all of the shit we've given Rex Ryan over the past couple years. I don't buy it, but just to humor these simpletons lets see how these two titans of talk stack up.

Bobby Valentine is an intelligent, good looking, 61 year old former player who's career as a coach has spanned continents - culminating in a World Series appearance in 2000 and overseas with a Japanese league championship in 2005.

Rex Ryan is a 49 year old, morbidly obese, blubbering buffoon who's only title game experience came as an assistant.

Bobby Valentine's teams through the years have exceeded expectations. While he has never won a division title in the MLB his Mets teams of the late 90's and early 2000's were perennial overachievers.

Rex Ryan's Jets have done nothing to back up their incessant talk except seemingly regress. While continually promising championships - Rex Ryan has forgotten the key component to winning a Super Bowl - getting there.

Bobby Valentine was a highly recruited high school player. After choosing to go to USC he was taken with the 5th overall pick in the draft by the Los Angeles Dodgers. Though his career was marred by injury he fought to overcome obstacles to carve out a nine year career.

Rex Ryan's Dad was a coach so, ipso facto, Rex is a coach. The only playing experience he has is at Southwester Oklahoma State. I know what you thinking and yes - it is actually a real school.

Bobby Valentine won a minor league MVP award.

Rex Ryan is listed under notable alumni on the Southwestern Oklahoma State Wiki page.

Bobby Valentine is quotable like Phil Jackson. Meaning that Valentine uses the media to his advantage.

Rex Ryan is quotable like Snookie. Meaning that people tune in only because it's impossible to take your eyes off of a train wreck.

Bobby Valentine won the 2001 New Jersey Sportswriters Humanitarian of the year award.

Rex Ryan belongs to foot fetish websites.

Bobby Valentine is the Stamford, CT director of Public Safety.

Rex Ryan has a foot fetish.

I could keep going but you get my point: the two are nothing alike. Their managerial styles are at polar ends of the spectrum and in regards to their dealings with the media (which is what the Post article was getting at) they aren't even in the same conversation. Valentine has never once proclaimed that the Red Sox are going to win the World Series this year because he knows all that breeds is entitlement. Rex Ryan seems to coddle entitlement. Just ask Santonio Holmes.






Pete Mastors
3/02/2012 07:35:00 PM
Tweet
Edit
_________________________________________________________________________________________
« Prev Post
Next Post »