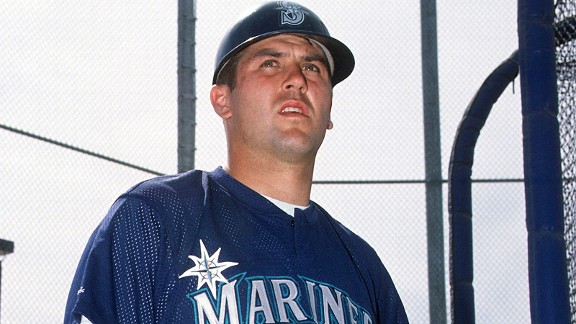 A special thanks to the Seattle Mariners for 15 seasons , two championships, three All Star games, a Gold Glove, a Silver Slugger and a cornerstone of one of the most succesfull orginizations in the MLB. Nevermind Derek Lowe's two All Star games, no hitter, 20 win season and 42 save season.
All that for Heathcliffe Slocumb- a guy who over the course of a season and a half, gave Seattle a 2-9 record with an ERA around 5 and then proceeded to bounce around the league until 2000. Deals like this happen all the time in the bigs. A team needs relief help down the stretch and they throw a couple propsects together for a guy who might be able to fill a need. (It happened to the Red Sox with Jeff Bagwell.)
Since the trade the Mariners have had only four seasons over .500. In Boston we don't celebrate seasons over .500 we celebrate playoff berths and since the trade the Red Sox have been to the playoffs eight times. Say what you want about Dan Duquette but he certainly got this one right.
Thanks for everything Tek and good luck in all your future endeavors. I'm sure we'll see you on the NESN panel wondering - just like all the viewers - what the hell Jim Rice is actually saying.
Pete Mastors
3/01/2012 03:56:00 PM
Tweet
Edit
_________________________________________________________________________________________
« Prev Post
Next Post »