I was just as surprised as anyone when I heard the news that Marco Scutaro had been traded. It had been pretty clear after last season that Lowrie wasn't the answer so not bringing him back was an obvious choice - but the Scutaro thing really left me puzzled. Marco wasn't going to wow anybody with the glove and yeah his arm left a lot to be desired. But the guy could hit a little bit and he really seemed comfortable in his role. Besides, wasn't Iglesias supposed to be still a couple years away? And don't forget that former Royal great, Mike Aviles, was down in Puerto Rico learning how to play the outfield to "maximize his value to the club." When a play is asked to work on other positions - it doesn't exactly scream "confidence".
So what do the Sox do to answer my frustrations and fears? Bring in the incomparable Nick Punto who has played 100 games or more only once in the past four seasons and over 125+ just twice in his entire 9 year career. Great news for a team that has had injury problems the past few seasons. Punto is a pretty bad hitter but - while nobody would mistake him for Omar Vizquel - he throw some leather around.
Maybe this "shortstop by committee" thing just might work. After reading a recent article about Aviles it is pretty that he has no ego what so ever. (Apparently getting cut by the Royals can do that to you) And he did hit .317 in 100 at bats last year for the Sox - so while he readily admits that he's not "the best" - you can't say that he's "the worst".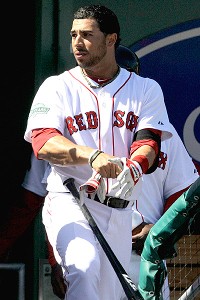 All I'm saying is I can see a 60/40 split in favor of Punto (if healthy) to start the season and then have it depend on production from there on out. I don't think the Sox necessarily need alot of production out of that spot - especially if Youkilis can stay healthy. With Pedroia,Youk and Gonzalez your infield is already pretty formidable. Between Aviles and Punto I hope we can realistically get somewhere in the .255 to .265 range with somewhere around 12-15 homers and 50 runs batted in. Lowly numbers I know but if the rest of these guys can stay healthy then all the shortstops have to do is not be absolutely terrible and this offense can be right around where they were last year. And offensively - that's not a bad place to be.
Pete Mastors
3/06/2012 02:45:00 PM
Tweet
Edit
_________________________________________________________________________________________
« Prev Post
Next Post »