Highest paid Red Sox player is...Jake Peavy???
Ben Whitehead
Contributing Writer
Every year, we find out which MLB teams spend the most money on their payroll. And every year, the Yankees are at the top.
Not this year, though. The spending kings have been dethroned by the Los Angeles Dodgers, according to a report by the Associated Press. The Dodgers come in at over $235 million, while the Yankees are over $208 million in spending. The Houston Astros are last with a payroll of just over $44.5 million.
The Red Sox are fourth (behind Philadelphia) at $162 million. The highest paid Sox player? That would be pitcher Jake Peavy, who is set to make $16,157,271 before any extra bonuses. Mike Napoli ($16 million) and John Lackey ($15.95 million) are next in line. David Ortiz is fourth at $15.5 million.
Peavy's contract was worked by the Chicago White Sox when he was picked up via trade in 2009. After the 2012 season, he signed a two-year, $29 million contract with Chicago and was traded to Boston in July 2013.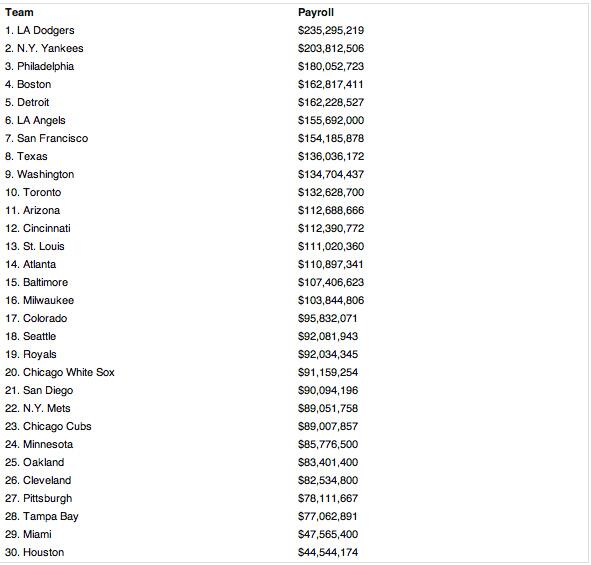 (Photo courtesy of AP)
Interesting notes about the list above:
Eight of the top 11 spenders missed the 2013 Postseason ... Oakland, Cleveland, Pittsburgh and Tampa Bay (Nos. 25-28) all made the 2013 Postseason, likely with a similar payroll, meaning four of the bottom six spenders were in the playoffs ... The AL East boasts three of the top 10 in payroll (No. 1 New York, No. 4 Boston and No. 10 Toronto) and four of the top 15 (No. 15 Baltimore), leading MLB Divisions in each category ... There are as many teams (two) above $200 million in spending are there are below $50 million.
Like what you read? See more from
Ben here
.
Have a question or comment for Ben? Give him a shout on Twitter:
@thebenwhitehead